Yagura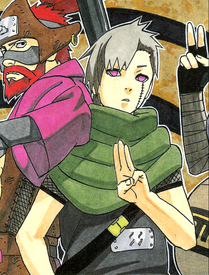 Title:

Yondaime Mizukage,

Jinchuriki of the Three-Tailed Giant Turtle,

Jinchuriki Yagura
Eye Color: Light Pink
Hair Color: Shaggy Gray
Race:
Ninja Rank:
Classification:
Shikai: Unknown
Bankai: Unknown
Family:
Mifude Hozuki (Deceased) (Incarnation)
Yukimaru's mother (Deceased) (Lover)
Yukimaru (Son) (Reincarnation)
Suigetsu Hozuki (Spiritual Grandson)
Enemie(s): Kisame Hoshigaki
Rival(s): Unknown
Partner(s): Yukimaru
Homeworld:
Hometown:
Chakra Nature:
Water Style (Master)
Earth Style (Master)
Lightning Style (Master)
Fire Style (Master)
Wind Style (Master)
Age:
Kaipuden: 29
Previous Team(s): Unknown
Team(s): None
Gender: Male
Status: Deceased
First Appearance:
Yagura was the Fourth Mizukage (Yondaime Mizukage meaning "Fourth Water Shadow") of Kirigakure, the lover of a myterious woman, somehow the father of Yukimaru, and the second Jinchuriki of the Three-Tailed Giant Turtle.
Appearance
History
When Yagura was born, he was already having the Three-Tailed Giant Turtle, seal within him, making him its third jinchuriki. Aside of most of the villagers, his parents, care and love him and always have their and along with his clan's praise for being the most skillful and talented shinobi of the Gyokana Clan.
When he was at the age of eight, while walking back home at, spending a day with his parents, a Soul Reaper with a number nine on the back haori who was blinded (under Aizen's orders), killed his parents. Fotunately, the Third Mizukage, who was a friend of Yagura's parents, was at their graves to give comfort to the traumatized Yagura. As he decide to learn and master all five of the elements, he also vowes to destroy the Soul Reaper who murder his parents.
Jutsu
Powers & Abilities
Plot - Part I - Kaipuden
Community content is available under
CC-BY-SA
unless otherwise noted.