Suigetsu Hozuki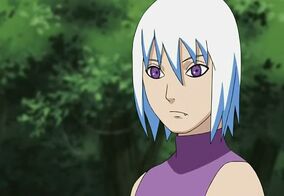 Title(s):
Second Coming of the Demon
Higure Member XXXIII (33)
Elite Number III (3)
Eye Color: Purple
Hair Color: White
Race:
Ninja Rank/Soul Reaper Rank:
Shippuden: Jonin
Classification:
Zanpakuto:
Shikai: Kubikiri (Executinor's Blade)
Bankai: Unknown
Family:
Third Mizukage (Decreased) (Grandfather)
Engetsu Ragai (Father)
Sumito Hozuki (Mother)
Kiriko Ragai (Aunt)
Mangetsu Hozuki (Decreased) (Older Brother)
Enemie(s): Akatsuki, Itachi Uchiha, Kisame Hoshigaki, Kizuato, Tomizo Takayanagi
Rival(s): Mangetsu Hozuki, Zabuza Momochi
Partner(s): Kiriko Hozuki, Tsunaku Senju, Karin, Jugo, Hanabi Hyuga, Konohamaru Sarutobi
Homeworld:
Hometown:
Chakra Nature: Ice Style (Master) Wind Style (Semi)
Water Style (Master)
Age:
Kaipuden: 12/13/14
Shippuden: 15/16/17
Zanpuden: 25/26/27
Previous Team(s):
Past: Higure
Kaipuden: Squad One (Team Tsubaki)
Gender: Male
Status: Alive
Story/Saga First Appearance:
Suigetsu Hozuki is a ninja from Kirigakure and a Chunin of Konohagakure, the younger brother of Mangetsu Hozuki, the nephew of Kiriko Hozuki, the son of Enhata and Rabumi Hozuki, first one to join Squad One/Team Tsubaki temporarily called Team Tsunaku when Tsunaku is the team leader, and a Human who gain Soul Reaper powers.
Appearance

History
Suigetsu is the son of Engetsu Ragai and Sumito Hozuki.
At the age of 8, Suigetsu joined the Higure organization, in search of his father and aunt (Member Number 33 was Suigetsu's rank during that time) before he was 9, he became Elite Number III (3) after the original's death.
Jutsu
Ninjutsu - Water Style: Water Wall Ninjutsu - Water Style: Water Dragon Jutsu
Hiden, Ninjutsu - Water Style: Great Water Arm
Hiden, Ninjutsu - Water Style: Demon Fish Wave Crash
Hiden, Ninjutsu - Hydration Jutsu
Hiden, Ninjutsu - Ice Fist: Ice Dragon Roar
Powers & Abilites

Orginal Plot
Plot - Part I - Kaipuden
Community content is available under
CC-BY-SA
unless otherwise noted.