Squad Five

Squad Name
Squad Five
Captain
Vacant
Lieutenant
Momo Hinamori
Allied Organization
None
Squad Specialty
N/A
Insignia
Lily of the Valley
Insignia Signifies
Sacrifice, Danger, Pure Love, Humility, Sweetness
Squad Color
Light Green
Squad Five (also known as "Gobantai") is one of the Thirteen Court Guard Squads, is headed by Lieutenant Momo Hinamori, as it currently have no captain.
Organization
Squad Five follows the traditional organization of a Thirteen Court Guard Squad. After the Defection of Sosuke Aizen, Squad Five is currently run by the next highest authority in Squad Five, Lieutenant Momo Hinamori.
Special Duties
No special duties have been noted for Squad Five. The members of this squad are all highly skilled, having been trained by a captain who excels at everything, including battle readiness.
Barracks
Lik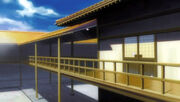 e all the other barracks, theSquad Five Barracks house the offices and living quarters of the Soul Reapers of Squad Five. While a captain, Sosuke Aizen's room in the barrack was on the second floor. In contrast, Shinji's room, while he was a captain was on the first floor and, notably, contained a turn-table.
Notable Members
Captains
Shinji Hirako (Active) (Formerly)
Sōsuke Aizen (Active)
Lieutenants
Gin Ichimaru (Active) (Formerly)
Momo Hinamori (Active)
Others
Kaname Tōsen (Active) (Formerly)
Renji Abarai (Active) (Formerly)
Izuru Kira (Active) (Formerly)
Recruitment
Squad Five has been raised to have a gentle atmosphere, where every member gets along well with one another. The squad is also said to excel at nurturing soldiers of immense talent.
Recruitment Fair Brochure
The following question and answer:
Sōsuke Aizen
No reply, as his whereabouts are unknown.
Momo Hinamori
1. What kind of individuals are you seeking?
Enthusiastic people.
2. How would you describe the atmosphere around your squad?
The captain is gone and there are still a lot of days when I have to stay in bed, but essentially it's a very peaceful division with a wonderful atmosphere.
3. What do you require of new recruits?
People who wouldn't betray anyone...
4. Some words for the soul reaper recruits.
Let's protect Squad Five together!