Samoto Uchiha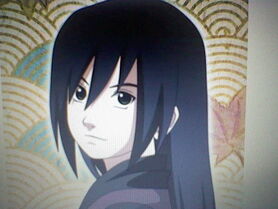 Title:
Blue Flames of the Leaf,
Eye Color: Black

Normal or Mangekyo Sharingan: Red and Black

Hair Color: Dark Blue
Race:
Ninja Rank:
Kaipuden: Genin
Shippuden: Chunin
Classification:
Zanpakuto:
Shikai: Sohana (Solar Flower)
Bankai: Godaime Sohana (Fifth Solar Flower)
Tenkai: None
Family:
Fugaku Uchiha (Father)
Mikoto Uchiha (Mother)
Itachi Uchiha (Deceased) (Older Sister)
Sasuke Uchiha (Older Brother)
Sazaku Uchiha (Deceased) (Great Grandfather)
Enemie(s): Unknown
Rival(s): None
Partner(s): Unknown
Homeworld:
Hometown:
Sharingan (Semi)
Chakra Nature:
Fire Style (Master)
Age:
Kaipuden: 8/9
Shippuden: 11/12/13
Team(s): Unknown
Gender: Female
Status: Alive
First Appearance:
Samoto Uchiha is a Genin from Konohagakure, a member of the Uchiha Clan, the daughter of Fugaku and Mikoto Uchiha, the younger sister of Itachi and Sasuke Uchiha, the great-granddaughter of Sosuke Uchiha, and the Jinchuriki of the Six-Tailed Woodpecker.
Appearance
History
Samoto Uchiha is Sasuke Uchiha's twin sister. Sasuke is two minutes older.
Jutsu
Kekkei Genkai, Dojutsu - Sharingan
Ninjutsu - Fire Style: Fireball Jutsu
Ninjutsu - Fire Style: Phoenix Flower Jutsu
Ninjutsu - Fire Style: Fire Blast Jutsu
Nintaijutsu, Ninjutsu, Taijutsu - Fire Style: Roaming Flare Jutsu
Powers & Abilities
Zanpakuto
Transformation
Plot - Part I - Kaipuden
Community content is available under
CC-BY-SA
unless otherwise noted.