Rasengan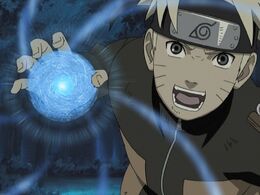 Data
Classification: Ninjutsu
Rank: A
Class:
Range: Short-Range
Users
The Rasengan is a powerful A-Rank technique invented by the Fourth Hokage, which he created by observing the Tailed Beast Blast. After spending three years developing it, he never saw the Rasengan completed, having never achieved the desired results before he died.
Minato's idea for the Rasengan was to take the Shape Transformation of one's chakra's nature affinity, creating a jutsu that did not need the aid of time-consuming hand signs to control. He died before he could accomplish this, but one shape transformation alone, the Rasengan is still a very useful, powerful, and difficult jutsu to learn and master.
Usage
Community content is available under
CC-BY-SA
unless otherwise noted.