Fire Style: Fireball Jutsu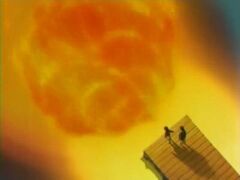 Data
Classification: Ninjutsu
Type: Fire Style
Rank: C-Rank and/or B-Rank
Class: Offensive
Range: Short Range
Hand Signs:
Horse - Tiger or
Snake - Ram - Monkey - Boar - Horse - Tiger
Users:
This technique where chakra kneaded inside the body is converted into fire, and expelled from the mouth in a massive orb of roaring flame. The scope of the attack is altered by controlling the volume of chakra that is mustered. The released flames will engulf their target, and leave a crater on the ground's surface. The fireball is normally blown through a ring made by the thumb and index finger of the user. However, some users are seen doing this technique without making a ring over their mouth
Community content is available under
CC-BY-SA
unless otherwise noted.